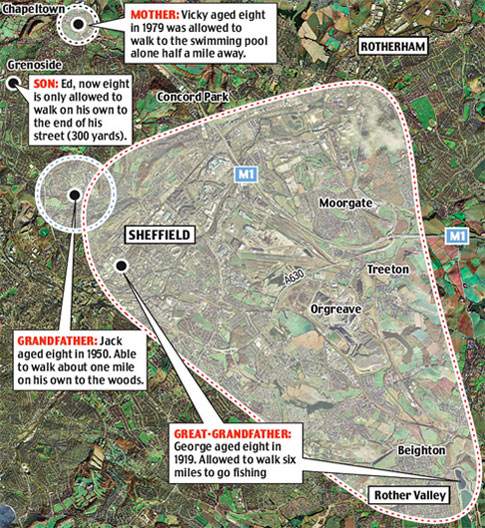 We spent two-and-a-half months in Finland this summer. The kids love it there because they can roam freely. After breakfast they told us where they're going — to their grandmother's, who lives next door; to their friends' house, two houses down; to the park, a block and a half away.
They would play in the woods. They rode their bikes. They showed up at mealtimes or when they needed a parent to get something done. They occasionally needed band-aids.
They were calmer and acted – not older, but more mature. One of their grandparents joked that there's no Finnish translation for "melt-down".
Returning to the U.S., I was reminded of an article in the UK Daily Mail entitled How children lost the right to roam in four generations.
The article describes how the grandfather of an eight-year-old boy in Sheffield, a couple of hours north of London, was allowed to walk six miles to go fishing at a lake in 1926 when he was a boy of eight.
Today, his eight-year-old grandson enjoys none of that freedom, being entirely confined to their fenced-in back yard. And sadly, the article says, "Even if he wanted to play outdoors, none of his friends strays from their home or garden unsupervised."
Here in the U.S. our children are dependent on us parents or their nanny to take them places and connect them with their friends. Their day is pre-programmed, and for many of their friends, a lot of it is spent doing homework.
The author of the U.K. study believes without access to nature, "children's long-term mental health is at risk". Our children love Finland because they can come up with meaningful things to do on their own there. They feel in charge.
Nowadays, the only world many American kids can roam freely in is a virtual one, such as Minecraft (which is popular in Finland, too).
It's hardly a replacement for the real thing, though.
I originally posted this on our learning log.