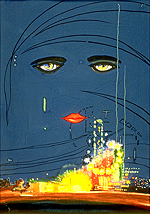 The Great Gatsby (1925) is ageless because in it F. Scott Fitzgerald captures the dynamic between two kinds of people — those who already have everything, epitomized in a propitious couple, Tom and Daisy Buchanan:
They were careless people, Tom and Daisy—they smashed up things and creatures and then retreated back into their money or their vast carelessness, or whatever it was that kept them together, and let other people clean up the mess they had made.
… And those whose "sole misfortune," in the words of Tracy Chapman, "was having mountains of nothing at birth" – personified in the novel's namesake James Gatz a.k.a. Jay Gatsby:
Gatsby believed in the green light, the orgastic future that year by year recedes before us. It eluded us then, but that's no matter—to-morrow we will run faster, stretch out our arms farther. . . . And one fine morning——
Despite all the zeal, Gatsby's impetus to get ahead in life and pursue his dream is a paddle race against the tide of time. It is an effort to relive his one long-gone moment of genuine happiness. Predictably, he never gets to live that dream.
So we beat on, boats against the current, borne back ceaselessly into the past.
Whether you're Tom, Daisy, or Gatsby, salute the past that colors your future.