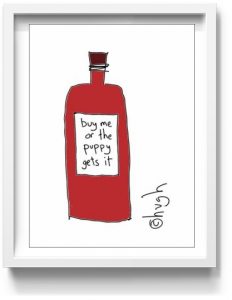 Texas-based maverick of an author Hugh McLeod is on the ball when it comes to social objects. He has a witty post up today (update: actually, it dates from 2007 – see comments) on gapingvoid.com called "Social objects for beginners." Through seven short examples, he shows how social objects bring people together by giving them a reason to talk to each other.
It's an entertaining read. Around anecdote F I was already chuckling so loudly my one year old clomped in looking worried, apparently to check if dad had lost it for good.
I won't spoil it by quoting snippets here, so go read the full post on gapingvoid.
Hugh also draws cartoons. The one on the right is for Stormhoek, the South African wine he markets in the U.S.